As part of the marketing license by Scholastic, fast food toys were produced for three franchises:
Taco Bell released 5 toys in 1998 and 5 toys from September 13, 1999 to October 10, 1999
Pizza Hut released 5 toys from November 9, 1998 to January 4, 1999
KFC released 5 toys in 1998
1998 Taco Bell Toys
Edit
Released: Fall 1998
Claw To Hand Watch - Clock with 2 hour timer, to signify the two hour limit morph time
Andalite Dome Ship Beam Toy - Image changing Flashlight, shaped like an Andalite Dome Ship
Yeerk on the Brain - Magnetic Brain Maze- use the magnetic finger provided to move the Yeerk across the brain to solve the maze
Animorpher - Mirror Image Changer
Animorphing Sphere - Picture Changing Ball
1999 Taco Bell Morphing Action Figures
Edit
Released:September 13, 1999 to October 10, 1999
Four morphing figures were produced as toys for age 3+, the Tobias see-through hawk was produced as the Under-3 toy, so it doesn't morph.
Cassie to Anteater
Rachel to Fly
Jake to Lizard
Marco to Hammerhead Shark
Tobias See-Through Hawk with Human Morph Inside
Pizza Hut
Edit
Released: November 9, 1998 to January 4, 1999
Anistampers
Edit
Tobias stamper rolls a silhouette of Tobias morphing into a hawk in orange. Stamper flaps its wings as you roll it.
Yeerk Stamper rolls <DON'T BE A YEERK> in green while the stamper wiggles its legs.
Animarkers
Edit
The animal head of the marker "encodes" a message in invisible ink, and the human head part of the marker "decodes" the message in dark ink.
Yeerk Pool Ship Squirter
Edit
A rubber ball of the Yeerk Mother Ship
This was the Under-3 toy, so it was the only toy not to come with the instruction sheet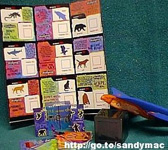 Released: 1998
Puzzle Cube - Fold and unfold the puzzle cube to see different images.
Animorphing Box - Rub the middle of any of the sides to see Animorphs.
Thought Speak Revealer - Read the story line on the card then use the red transparent window to see more.
Tobias Hawk Glider - Throw it and it glides.
DNA transfer Cards - Rub the card to reveal items - back of the cards is a puzzle
External Links
Edit