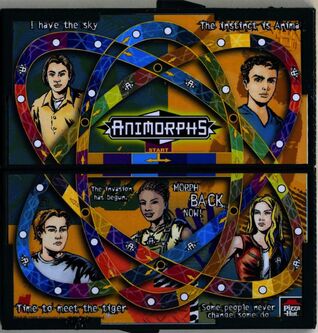 An
Animorphs Travel Game
was produced by
Promotional Partners Worldwide
in Australia, in association with Pizza Hut. It was not given out as a toy in Pizza Hut locations, and may have been given out as a general promotional item.
Gameboard illustration
Edit
The game consists of a gameboard that can be folded in half, which has three ovular paths you can follow with one of the magnetic pieces. The human characters Tobias, Marco, Jake, Cassie, and Rachel are seen as cartoon drawings in the background. Next to each character is one of the animorphs catchphrases:
How to Play
Edit
All players, up to 4, start their piece on the Animorphs logo
Always move in the direction of the arrows
Roll the dice. To start you must throw a 2
The player who completes an entire circle of an outer ellipse wins
The white symbols mean you successfully 'morph' and go ahead to the next 'A' logo following the direction of the arrows
The black symbols are Taxxons which send you back three spaces.
'A' symbol - send the player nearest you back to the start, because you suspect they are a Controller
Ad blocker interference detected!
Wikia is a free-to-use site that makes money from advertising. We have a modified experience for viewers using ad blockers

Wikia is not accessible if you've made further modifications. Remove the custom ad blocker rule(s) and the page will load as expected.