Aximili-Esgarrouth-Isthill
Talk

5
554pages on
this wiki

This page is under construction, please be patient as we apply our changes
Aximili-Esgarrouth-Isthill, also known as Ax, is the younger brother of Elfangor, uncle of Tobias, son of Noorlin-Sirinial-Cooraf and Forlay-Esgarrouth-Maheen, and an Andalite of the Aristh rank.
Background
Edit
When the Yeerks attacked the Andalite fleet over Earth, Ax was left alone inside the ship's dome because he didn't have a high enough rank to fight. When Visser Three's Blade Ship snuck up on the Dome Ship, the Andalites released the dome in order to gain more maneuverability. Despite this, the Blade Ship beat the Andalites. Earth's gravitational pull caught the dome, and Aximili crashed into the Pacific Ocean.
Appearance
Edit
Aximili is an Andalite, and as such he has the standard alien features: centaur-like form covered in blue-and-tan fur, a long muscular tail with a big, scythe-like blade on the end, and two stalk eyes on the top of his head, providing 360 vision. He is also stated to have seven fingers on each hand and no mouth, instead communicating via Thought-speak. His human morph has been described as "strange," as if all the Animorphs members were "put through a blender." This is understandable, however, since his human morph is a mix of every human member's DNA.
Personality
Edit
Aximili is extremely curious and interested in the Earth cultures. He is somewhat arrogant, which is a recurring Andalite trait. He highly values honor and duty- to the extent that, on some occasions, he sided with humans over Andalites because he considered that the Andalites were resorting to particularly drastic measures where the Animorphs had not committed such compromises-, and is at first very serious. However, as he spends more time in the company of the Animorphs, he slowly grows to have a sense of humor, which they find slightly disturbing. Despite his seriousness, he tends to suffer from a loss of control when in human morph as he demonstrates exceptional enthusiasm for his ability to explore his sense of taste, which he does not have in his natural state. He has a good relationship with all of the Animorphs, but mainly Tobias.
Relationships with the other Animorphs
Edit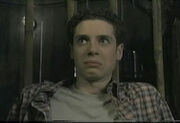 In the Animorphs TV Series, Ax is portrayed much the same as his book counterpart. However, his Human form appears much more often in the show than in the books. His human name in the series is Max.
After Ax's ship crash-landed on Earth, he sent out a telepathic plea for help, including images of the abandoned military base where he was hiding. (In the books, he was still in the dome of the GalaxyTree, which had crashed into the Pacific Ocean).
Morph
Book Acquired
Tiger Shark
The Message
Human ("Philip", male, used Frolis Maneuver to mix DNA from Cassie, Marco, Rachel, and Jake)
Lobster
The Predator
Ant
Northern Harrier
Cockroach
The Capture
Fly
Human (Jake)
Mouse
The Andalite's Gift
Flea
Rattlesnake
The Alien
Termite
The Secret
Great Horned Owl
Striped Skunk
Wolf Spider
The Android
Bat
Spider Monkey (Unusable, Sario Rip morph)
The Forgotten
Jaguar (Unusable, Sario Rip morph)
Parrot (Unusable, Sario Rip morph)
The First Journey
Chameleon (Unusable, Sario Rip morph)
Racehorse
The Unknown
Seagull
The Escape
Hammerhead Shark
Mole
The Underground
Mosquito
The Decision
Leeran
Dolphin
In the Time of Dinosaurs
Tyrannosaurus Rex (Unusable, Sario Rip morph)
Human-Controller
The Threat
African Elephant
The Solution
Baby Seal
The Extreme
Polar Bear (Nanook)
Giant Squid
The Exposed
Cow
The Experiment
Bull
Chimpanzee
Mountain Goat
The Reunion
Hork-Bajir
The Prophecy
Squirrel
The Proposal
Cockatiel
Orca Whale (Swoosh)
The Mutation
Cheetah
The Weakness
Honeybee
The Other
Shark
Back to Before
Human
Taxxon
The Test
Human (Male Fighter Pilot)
The Deception
Human (Navy Lieutenant)
Human (Visser Two's host Admiral Carrington)
Human (Male Soldier)
Beaver
The Resistance
Mallard Duck
The Absolute
Racoon
The Sacrifice
Books Narrated By Ax
Edit
References
Edit