Rachel
Talk

0
555pages on
this wiki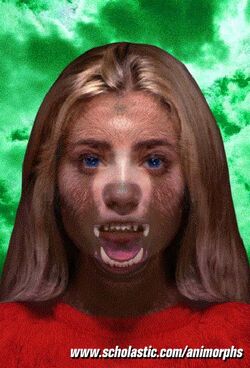 Rachel Berenson
Biographical information
Aliases
Xena Warrior Princess,
Ms. Fashion, Storm
Species
Human
Gender
Female
Eye color
Blue
Hair color
Blonde
Born
1985
Died
2001
Family
Dan (father),
Naomi (mother),
Jordan (sister),
Sara (sister),
Tom Berenson (cousin),
Jake Berenson (cousin),
Steve Berenson (uncle),
Jean Berenson (aunt),
George (uncle),


Ellen (aunt),
Saddler (cousin),
Justin (cousin),
Brooke (cousin),


Forrest (cousin),

Affiliation
Animorphs
Behind the scenes
First appearance
The Invasion
Last appearance
The Beginning
Cause
Killed by a random Controller in polar bear morph
Portrayer
Brooke Nevin
[Source]|

Rachel Berenson is the most aggressive and violent of the Animorphs.
Biography
Edit
Rachel Berenson was the most violent member of the Animorphs. She is Jake's cousin on her father's side, and was in love with Tobias. Before the war, she trained in gymnastics. Marco's nickname for her is Xena, Warrior Princess.
Rachel has two younger sisters, Jordan and Sara, who make very few cameo appearences in the books with no real significance. Rachel's parents are divorced, and though she had a stronger bond with her father Dan, a reporter, she chose to live with her mother Naomi, a lawyer, in favor of staying near the Animorphs.
Rachel was the character that changed the most during the war. Before the war, she was characterized by her involvement in gymnastics, her friendship with Melissa Chapman (daughter of Principal Chapman, one of the Animorphs' enemies), and her incurable mall-crawling and shopping addiction. An attractive girl, she was also smart, confident and bold. She was also known to have a temper. After the groups' meeting with Elfangor, her relationship with Melissa faded, and her obsession with the war took the place of her older shopping hobby. Out of all the animorphs, Rachel was the only one that seemed to enjoy the war, always eager to jump into a crazy mission. Her catchphrase of sorts was "Let's do it!" Soon her daring and love of action grew to a dark, almost sadistic love of fighting and aggression.
Rachel's violence was noticed, and "exploited" by Jake and the Animorphs, and later, even Crayak. Though her will to battle and sacrifice herself was a powerful asset to the team, it disturbed all of the groups' members, including Rachel herself. In #32 - The Separation, Rachel is accidentally split into two different beings, possessing different qualities of Rachel; most easily described as "Mean Rachel" and "Wimp Rachel." Her violent side was far stronger than her kinder side, a fact that haunted Rachel throughout the series.
Rachel and Tobias have only had a few dates, at a dance in #33 - The Illusion, and other "flying dates" have been referenced to. Though the two's relationship seems fairly casual, Rachel and Tobias show serious feelings for each other. Despite her violent nature, Rachel repeatedly urges Tobias to become a nothlit in his human form and quit participating in the war and gets mad at the Ellimist for not returning Tobias to his human body when he promised when Tobias, instead, he only gets back his morphing powers.
Most notable about Rachel is that though many of the Animorphs' victories were attributed to her (David, Tom Berenson), Rachel was not supposed to be an Animorph. In The Ellimist Chronicles, the The Ellimist tells Rachel in her last minutes of life that she was nothing but "a happy accident," and was not supposed to be with Jake, Cassie, Tobias, and Marco that night. In book 54 - The Beginning she dies. In the last chapters of the book Jake, Marco and Tobias commandeer a prototype Yeerk warship from the Andalites and name it Rachel. Its fate is ambiguous as the story ends with Jake giving the command to use it to ram the Blade ship the group has been chasing.
Relationships with the other Animorphs
Edit

*Jake: Despite being cousins, Jake and Rachel maintain one of the weakest relationships among the characters (except at the end of the series). Jake often ponders on Rachel's bloodthirsty and degenerative nature, while the darker side of Rachel's mind wonders on what would happen should she ever challenge Jake's leadership - something however that she stops doing towards the end of the series, after she confronts David and the Crayak, and along with them, her dark nature. When Rachel accepts her final mission that they both knew would be very dangerous, Rachel tells Jake not to be overwrought by his decision, knowing fully well the burden under which Jake is placed. Jake is distraught by having had to send off Rachel to kill his Yeerk-infested brother, and never recovers.
*Tobias: Before the start of the series Rachel and Tobias weren't friends, though it is implied that they had some prior knowledge of each other.  They quickly develop feelings for each other, and eventually begin a relationship and fall in love.  
*Cassie: Rachel and Cassie are best friends. However, tension develops between them over the course of the series: Cassie is increasingly wary of Rachel's dark nature, and Rachel in turn becomes impatient with Cassie's morality. Cassie's integrity and coherence are questioned by the reader when she leaves Rachel to hunt down David by herself, who she then captures and with whom is thus alone, helplessly sobbing while deciding on whether she will have to kill a serene and accepting David or not (his fate is never revealed). Rachel feels she is often used as a tool to protect the innocence of the rest of the Animorphs - her dark nature is fueled by their veiled hypocrisy (except for Tobias - this is debatable, but he has his own psychological problems to deal with even though he loves her), and this is something which she doesn't rebel from, voluntarily sacrificing herself in order to protect their well-being.
*Marco: Rachel and Marco often argue, though their verbal sparring is good-natured. They are similar in terms of ruthlessness, although Marco is inherently much more calculative and strategic; a side which contrasts with her increasingly reckless nature. He is the least affected by her death, given his philosophy towards life. In Back to Before, a book where an alternate-reality is concocted by the Ellimist and the Crayak, she agrees to date him.
*Aximili-Esgarrouth-Isthill: Rachel is initially distrustful of Ax and is in general indifferent towards him.  They rarely, if ever, interact one-on-one. Ax is ruthless and calculative like Marco, but unlike him, Ax is more sensitive and becomes evermore apprehensive of Rachel's bloodthirstiness - something that he considers to be unfit for a warrior and akin to a mental illness.
Battle Morph(s): Grizzly Bear, African Elephant
Raptor Morph: Bald Eagle
According to the Anibase, which can be downloaded here, Rachel has a total 43 morphs in the series.
Books Narrated By Rachel
Edit
Rachel's nicknames include Xena: Warrior Princess and Ms. Fashion.
Suffers from near-sightedness and claustophobia.
The Rachel is named in memory of Rachel.
Rachel is allergic to crocodile DNA.
In the Animorphs TV series, Rachel's battle morph is a Lion, as opposed to her Grizzly Bear morph in the books, however Rachel does morph a Grizzly Bear in one episode of the T.V. series.
In #21 The Threat, it's stated that Rachel is related to Jake's family through her father. Later in #31 The Conspiracy, Rachel says that Jake's family is related to her family through Jake's dad; making Steve and Dan (Jake and Rachel's fathers, respectively) brothers. This also means Rachel surname would be Berenson if it was never changed or hyphenated.
References
Edit