The Arrival
Talk

0
555pages on
this wiki
The Arrival
Information
Number:
#38
Narrator(s):
Ax
Chronology

The Arrival is the thirty-eighth book in the Animorphs series, written by K.A. Applegate. It is narrated by Ax
Official Description
Edit
Andalites have finally arrived on Earth. The Animorphs and Ax now have allies willing to fight against the Yeerk invasion. But there are only four Andalites. Not nearly enough to defeat thousands of Yeerks. Not enough to stop humans from being infested.
So, everyone agrees that the battle must continue. But the Andalites don't want to fight alongside humans. They feel their skills will be less than adequate. And they demand that Ax choose a side. Will Ax stay with his friends...or stand with his people?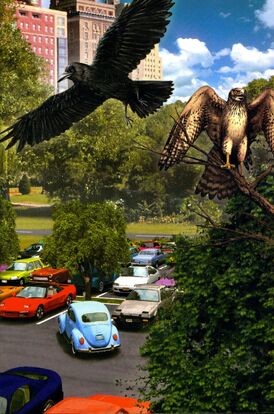 New morphs
Edit
| Morpher | Morphs Acquired | Morphs Used |
| --- | --- | --- |
| Jake | -- | Peregrine Falcon, Siberian Tiger |
| Rachel | -- | African Elephant or Grizzly Bear (Jake yells "Battle Morphs", but is not seen which morph is chosen by Rachel) |
| Tobias | -- | -- |
| Marco | -- | Cobra, Silverback Gorilla |
| Cassie | Pit Viper | Pit Viper |
| Ax | -- | Northern Harrier, Human |
| Estrid-Corill-Darrath | Human, Crow | Kafit Bird, Human, Rabbit, Crow |
| Arbat-Elivat-Estoni | Human | Human |
New Morphs: Cassie: Pit Viper Estrid-Corill-Darrath: Kafit Bird, Human, Rabbit, Crow Arbat-Elivat-Estoni: Human
The cover quote is, "Andalites have reached Earth. Will Ax leave the Animorphs?"
This plot marks one of the rare occasions where the Animorphs interact with a Chee other than Erek, as Ax relies on Mr King for help hacking the Andalite ship's computer systems rather than Erek.
McDonalds was destroyed in this book.
---
Taken from http://www.scholastic.com/animorphs/books/animorphography/bk38.htm