The Discovery
Talk

0
555pages on
this wiki
The Discovery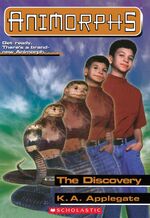 Information
Number:
#20
Narrator(s):
Marco
Chronology

The Discovery is the twentieth book in the Animorphs series, written by K.A. Applegate. It is narrated by Marco.
Official Description
Edit
The blue box Elfangor used to create the Animorphs has been found by a kid named David. David has no idea what he has -- or what it can do. But Marco does. And when he sees David with it, he knows the Animorphs have to get that box. At any cost.
But what should have been a simple plan ends up going horribly wrong. And David is on the run with the Animorphs and Ax. Now they have only two choices: turn David over to the Yeerks. Or make him the sixth Animorph.
Contributions to the Series' Story Arc
Edit
| Morpher | Morphs acquired | Morphs used |
| --- | --- | --- |
| Jake | -- | Peregrine Falcon, Siberian Tiger, Cockroach |
| Rachel | -- | Bald Eagle, Grizzly Bear, Cockroach |
| Cassie | -- | Osprey, Cockroach |
| Marco | Cobra (Spawn) | Osprey, Cobra (Spawn), Cockroach |
| Tobias | -- | |
| Ax | -- | Wolf Spider, Human, Cockroach |
| David | Golden Eagle, Cockroach, Lion (not mentioned acquiring but used in next book) | Golden Eagle, Cockroach |
| Visser Three | -- | Dule Fansa |
The cover quote is, "Get ready. There's a brand-new Animorph...."
The inside front cover quote is, "This is no snake in the grass...."
This book is part 1 of a three-part arc called "The David Trilogy."
---
Taken from http://www.scholastic.com/animorphs/books/animorphography/bk20.htm