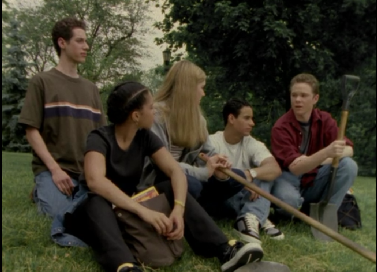 The Escape
is an episode of the
TV show
, an adaptation of the book
The Underground
.
Official Summary
Edit
The Animorphs have discovered a secret weapon to use against the Yeerks - maple-flavored oatmeal! The Yeerks crave it, and when they eat it, they are unable to control their hosts! But to use the oatmeal weapon successfully, the Animorphs will have to return to their darkest nightmare...the Yeerk Pool!
The Animorphs discover that a certain type of oatmeal is a stimulant to the Yeerks, and they are unable to control their hosts' actions. The usage of this "drug" also affects the hosts, but the Animorphs know they must use this advantage to inflict some serious damage upon the Yeerk pool.
Morphs Used
Edit
| Morphable Character | Morph |
| --- | --- |
| Jake | Cockroach, Ferret |
| Rachel | Cockroach, Ferret, Lion |
| Marco | Cockroach, Ferret |
| Cassie | Cockroach, Ferret |
| Tobias | Red-tailed Hawk (nothlit) |
| Ax | Human ("Max"), Ferret |
Watch Online
Edit
VHS Releases

Edit
Australia Releases
Edit
Volume 1.3 ("The Escape" and "The Capture" parts 1 and 2)
Ad blocker interference detected!
Wikia is a free-to-use site that makes money from advertising. We have a modified experience for viewers using ad blockers

Wikia is not accessible if you've made further modifications. Remove the custom ad blocker rule(s) and the page will load as expected.