This article is written from a Real World point of view.
The Experiment is the twenty-eighth book in the Animorphs  series, written by K.A. Applegate. It is the fifth book narrated by Ax and the third book with Ax as the sole narrator.
Plot
Official Description
The Yeerks have decided to try a little experiment. They've decided that if they can develop a way to make people more "willing" to be infested, they can speed up Earth's invasion. So, the Yeerks try to invent a substance that will take away the human ability to make a decision. A substance that will eliminate free will.
Now the Animorphs and Ax are not only faced with trying to slow down the Yeerks' invasion, but they also have to try and put an end to the genetic testing on a small group of humans. This time there's only one chance to stop the Yeerks. And if anything goes wrong, it's all over...
Plot Summary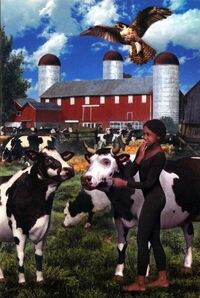 The Animorphs find out from Erek that the Yeerks have taken control of a meatpacking plant and a laboratory. They acquire chimpanzees and infiltrate the lab. They don't find very much information so Tobias and Ax morph into bulls (thinking they would morph into steer but not realizing that the DNA does not include surgical procedures) to go to the meatpacking plant. Inside the plant, they discover a room with humans in cages. The computer tells them that it is an experiment designed to destroy the free will of the human population so that the Yeerks can take over easily, but a Yeerk scientist eventually confirms that the experiment was a total failure.
Appearing
Featured Characters:
Supporting Characters:
Villains:
Major/Highlighted Events
Morphs
| Morpher | Morphs acquired | Morphs used |
| --- | --- | --- |
| Jake | Chimpanzee | Peregrine Falcon, Seagull, Chimpanzee, Fly, Siberian Tiger |
| Rachel | Chimpanzee | Bald Eagle, Seagull, Chimpanzee, Fly, Grizzly Bear |
| Tobias | Chimpanzee, Bull | Chimpanzee, Bull, Human |
| Cassie | Chimpanzee | Osprey, Seagull, Chimpanzee, Fly, Wolf |
| Marco | Chimpanzee | Osprey, Seagull, Chimpanzee, Silverback Gorilla, Fly |
| Ax | Chimpanzee, Cow, Bull | Human (Main), Northern Harrier, Seagull, Chimpanzee, Great Horned Owl, Cow, Bull |
Trivia
The front cover quote is, "Change can be a good thing. A very good thing....".
The inside cover quote is, "Got Milk?" which is an obvious reference to a famous ad created by Goodby Silverstein & Partners.
The interior illustration is notably the only time in the series where one of the Animorphs (Cassie) is depicted wearing a typical form-fitting morphing outfit, rather than normal street clothes.
The book came with two bookmarks featuring the cover morph of Ax morphing a cow.
The regular edition came with two bookmarks of Ax morphing a cow, while the Scholastic School Market Edition contained an advertisement for the Animorphs Alliance fan club instead.
ANIBASE: The ending for this book made some Animorphs fans hopping mad. This is what Katherine Applegate had to say about the controversial closing scene:
"I took some grief for this from the fans. A fair number were upset that I ended with all of the Animorphs ordering hamburgers. I am in favor of being as humane as possible in dealing with livestock, but I'm not a vegetarian. I kind of think that I'll start worrying about the treatment of cows more once there are no more political prisoners, no more children dying of curable diseases, and no more fanatics blowing themselves up to murder civilians."
Formula 71 - The forumula that was supposed to take away every human's free will. Turns out that it's impossible to do such a thing -- but Visser Three's not listening...
Gallery
US images
International Covers
International Back Covers