The Hidden
Talk

0
555pages on
this wiki
The Hidden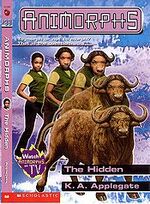 Information
Number:
#39
Narrator(s):
Cassie
Chronology

The Hidden is the thirty-ninth book in the Animorphs series, written by K.A. Applegate. It is known to have been ghostwritten by Laura Battyanyi-Wiess. It is narrated by Cassie.
Official description
Edit
The Yeerks have discovered and repaired a damaged Helmacron ship. They know of its morph-seeking capabilities, and they plan to use the ship to capture the "Andalite bandits." And to find Elfangor's blue cube. The one that gave the kids the ability to morph.
Cassie, the other Animorphs, and Ax are in a pretty bad situation because they can't leave the cube in one place, they can't morph without being discovered, and they have to keep moving. It looks like this may be a battle the Visser can't lose...
Plot Summary
Edit
The Yeerks repair a downed Helmacron ship and use its sensors to track the Escafil Device and the Animorphs morphing abilities. Cassie is forced to relocate the Escafil Device. During the process, a Cape buffalo and an ant inadvertently gain the morphing ability. The buffalo morphs Chapman and begins to learn speech, and the ant morphs Cassie. Cassie kills the ant when it demorphs, and near the end of the book the buffalo is killed by a Dracon beam.
The front cover quote is, "To morph or not to morph? That is the question...."
The inside front cover quote is, "Where the buffalo roam..."