The Other
Talk

0
555pages on
this wiki
The Other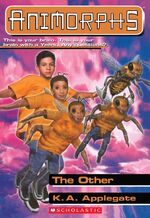 Information
Number:
#40
Narrator(s):
Marco
Chronology
Official Description
Edit
Ax and the Animorphs have always believed he was the only non-infested Andalite on Earth. That he alone survived the terrible battle between his people and the Yeerks.
Until Now.
There were other survivors. Other Andalites. And they're here on Earth. Trying to keep a low profile. Trying to find a way to defeat Visser Three. Trying -- like Ax and the Animorphs -- to stay alive until help finally comes.
If help finally comes...
The cover quote is, "This is your brain. This is your brain with a Yeerk. Any questions?"
The Andalites started out the series as the "good guys" against the evil Yeerk "bad guys". But, as K.A. Applegate showed with the Yeerks, no one species is all good or all bad. Here's what K.A Applegate said about the plot of this book: "This was my belated attempt to deal with the issue of disabilities.... I wanted to show a less savory side of Andalite culture, show that maybe they had some problems, too."
The topic of disabilities comes up again very significantly in Book #50: The Ultimate. Ax has much less of an issue with it that time around.
---
Taken from http://www.scholastic.com/animorphs/books/animorphography/bk40.htm