Vegemorphs
 is a book series that appeared in the show
Arthur
, in the episode "
D.W. Tale Spins
. It is believed to be stories about kids that can turn into vegetables. 
Arthur
 and 
Buster
 say that it "makes the 
Scare-Your-Pants-Off books
 look like kid's books". They do not have any pictures.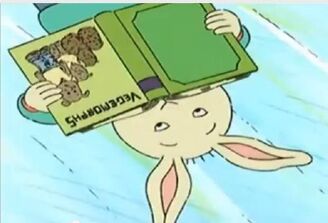 Known Books
Edit
The General
The Specific
The Random
The Trilogy Part 1
The Trilogy Part 1- Part 2
The Trilogy Part 1- Part 3
Transcript
Edit
Buster:The best book in the series is 'The General.'
Arthur:I like 'The Specific' better. And what about 'The Random'? It was so unpredictable!
D.W.: What are you talking about?
Arthur: Nothing that would interest you. We're talking about books.
D.W.: I like books!
---
Arthur: The Vegemorphs books make the 'Scare-Your-Pants-Off' books look like kids' stuff!
Buster: I just read the trilogy. Part 1, then Part 1 Part 2, then Part 1 Part 3.

Arthur: You can't read it D.W. No pictures!

~~D.W. flips through one of the books~~

Arthur to Buster: Do you realize, I found out something I can do that D.W. can't force me to include her in on? This is probably the greatest moment of my life!

D.W.: I don't want to read those dumb books anyway!

Arthur: Don't want to? You can't read!

D.W.: I don't need to read. I can make up better stories than those.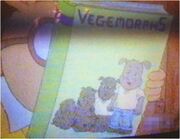 There is an actual Vegemorphs book, Vegemorphs: The Fungus Among Us, written by Leif E. Green.
Arthur mentions the 'Scare-Your-Pants-Off' books, which are an obvious parody of Goosebumps.
Ad blocker interference detected!
Wikia is a free-to-use site that makes money from advertising. We have a modified experience for viewers using ad blockers

Wikia is not accessible if you've made further modifications. Remove the custom ad blocker rule(s) and the page will load as expected.