The
Wildlife Rehabilitation Clinic
is another name of the barn of the farm Cassie and her parents live at. One half of it is a regular barn with animals, but Cassie's dad, Walter, turned the half of the barn into a veterinary hosptial with an office where wounded wild animals are taken in, given medical treatment, and then are released back into the wild. It's just Cassie and her dad taking care of the animals. The
Animorphs
regularly meet in the barn to discuss plans and other stuff.
Animals That Have Been There
Edit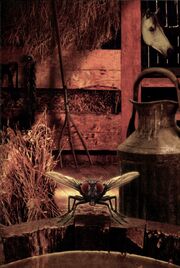 Here are the animals that have ever been in the clinic (because they were injured or sick). If you know any others add them. 
Ad blocker interference detected!
Wikia is a free-to-use site that makes money from advertising. We have a modified experience for viewers using ad blockers

Wikia is not accessible if you've made further modifications. Remove the custom ad blocker rule(s) and the page will load as expected.